1. The Zodiac Killer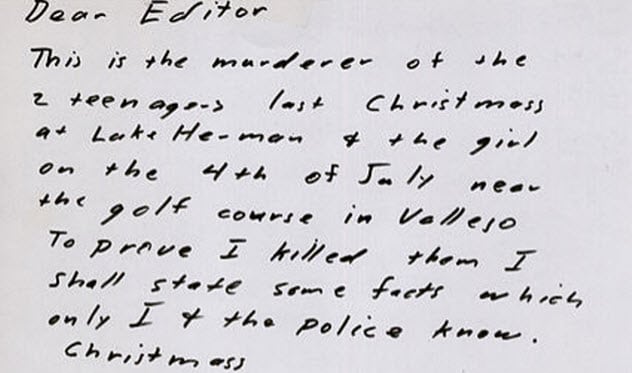 In the late 1960s, the Zodiac Killer targeted four men and three women between the ages of 16 and 29 in Benicia, Vallejo, Lake Berryessa, and San Francisco. Five victims were killed during his reign of terror. He sent several letters, including four cryptograms, to the local Bay Area press. It's believed that his true identity will be revealed if the ciphers can be decoded.
Only one of the ciphers has ever been solved. Schoolteacher Donald Harden and his wife, Bettye, cracked the code which reads:
I LIKE KILLING PEOPLE BECAUSE IT IS SO MUCH FUN IT IS MORE FUN THAN KILLING WILD GAME IN THE FORREST BECAUSE MAN IS THE MOST DANGEROUE ANAMAL OF ALL TO KILL SOMETHING GIVES ME THE MOST THRILLING EXPERENCE IT IS EVEN BETTER THAN GETTING YOUR ROCKS OFF WITH A GIRL THE BEST PART OF IT IS THAE WHEN I DIE I WILL BE REBORN IN PARADICE AND ALL THEI HAVE KILLED WILL BECOME MY SLAVES I WILL NOT GIVE YOU MY NAME BECAUSE YOU WILL TRY TO SLOI DOWN OR ATOP MY COLLECTIOG OF SLAVES FOR MY AFTERLIFE. EBEORIETEMETHHPITI.
The unsolved ciphers still frustrate the FBI.