4. The Beltway Snipers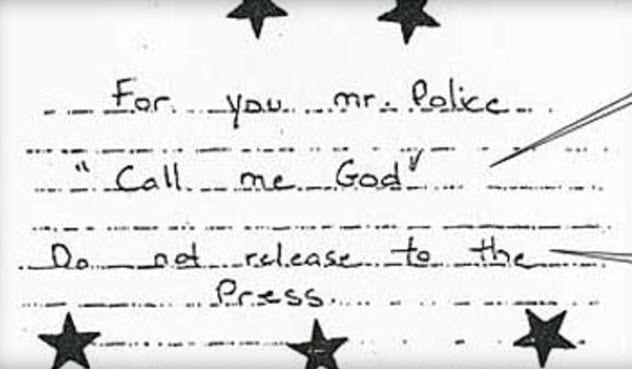 Over a three-week span in 2002, the "Beltway snipers" killed 10 people in the states of Maryland and Virginia. (Another seven individuals were murdered elsewhere.) John Allen Muhammad and Lee Boyd Malvo shot each victim with a single bullet fired from a distance. Then the killers vanished.
They wrote down their demands in a three-page letter with a cover note that read, "For you, Mr. Police. Call Me God." They demanded $10 million in "unlimited withdrawals" or the lives of children in the area would be threatened. The letter was left pinned to a tree outside a restaurant where the snipers had shot and wounded a man who was out to dinner with his wife.
They were eventually caught when one of the snipers mentioned an unsolved murder in Montgomery, Alabama, in a traced phone call. Authorities were able to link both of the murders with fingerprints and make an arrest. Muhammad was put to death by lethal injection, and Malvo received a life sentence.